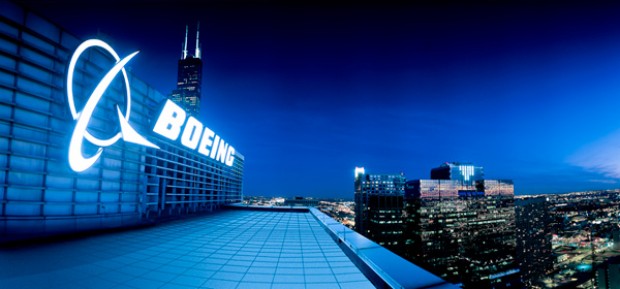 Boeing's Chicago headquarters.
By DOMINIC GATES Seattle Times |<Original Source>

SEATTLE • When the Pentagon this spring announces who will design and build a major new stealth bomber for the Air Force, the decision will determine Boeing's future in the combat-aircraft business.
The choice could also reshape the military-industrial base. Top aerospace analyst Richard Aboulafia said that whatever the outcome, it could precipitate an aggressive move by Boeing, the No. 2 U.S. defense contractor, to acquire the aircraft unit of No. 3 defense player Northrop Grumman.
Boeing has teamed with Lockheed Martin, the top defense contractor, in bidding against Northrop to build up to 100 new-generation long-range strike bombers (LRS-B) that will replace the Air Force's B-1 and B-52 bombers.
The currently projected cost, not counting classified spending, is $90 billion, or $900 million per airplane.
"If Boeing loses, it won't be building combat aircraft after 2018 unless it buys Northrop's aircraft unit," said Aboulafia, a Teal Group analyst.
"If Boeing wins, Northrop will not be a combat-aircraft prime, and its investors may decide the company is more valuable broken up — in which case Boeing would be the likely buyer for the aircraft unit anyway."
Besides aerospace, Northrop has distinct and substantial businesses in electronics, information systems and technical services such as supply-chain management.
Details of the government's requirements for the plane remain top secret. But Pentagon officials have said the aircraft must be able to carry nuclear bombs and may be designed to fly unmanned when dropping conventional bombs.
Should the Boeing/Lockheed team win, it's likely Lockheed will do the design and Boeing will build it, Aboulafia said in an interview.
Boeing would probably build the planes in St. Louis, with significant pieces subcontracted around the nation.
Boeing built large portions of the B-2 stealth bomber's wing and aft fuselage in Seattle under a subcontract from Northrop, that program's winning bidder.
The Boeing jet-fighter production lines in St. Louis, meanwhile, are likely to be shuttered before the end of the decade. So losing the contract would mean "Boeing will exit the combat-aircraft business," Aboulafia said.
Boeing's leadership, riding record-high share prices and sitting on a $13 billion mountain of cash — eight times as large as Lockheed's — is unlikely to accept that position.
Aboulafia's bold thesis is backed by history.
In November 1996, the Pentagon eliminated St. Louis-based McDonnell Douglas from the Joint Strike Fighter competition, leaving the company with dim prospects.
Boeing, eager to balance its commercial unit with a defense acquisition, announced just a month later it would buy McDonnell Douglas for $13.3 billion in stock.
The market forces that will come to bear after the LRS-B decision may be even stronger than in 1996.
Pressure on the U.S. defense-procurement budget has increased under the mandatory budget cuts imposed by Congress in the process known as "sequestration."
Boeing plans $4 billion in cuts on its defense side to cope with the downturn in business.
Ahead, few big-money military-airplane contracts are in the works. After the LRS-B, defense contractors won't begin real work on the next prospect, new "sixth-generation" jet fighters, for a decade or more.
LRS-B is by far the biggest prize in sight.
The contest for the bomber is so secret, analysts outside the Pentagon have no idea who is favored.
No one knows for sure what the plane will look like, either, though it is expected to be a triangular "flying wing" shape like the B-2.
Prototypes may already have flown. Trade journal Aviation Week reported on a mysterious triangular "blended wing-body aircraft type" that was photographed over Amarillo, Texas, last March.
Adding to the mystery of what's coming, the Pentagon has left open an option that the bomber may not be a single platform, but a system of several aircraft.
A government defense analyst, who asked not to be identified because he is not allowed to speak publicly, said that could mean development of an unmanned sensor drone stuffed with intelligence, surveillance and reconnaissance equipment and command-and-control systems. This drone could potentially direct a separate aircraft that would be nothing but a basic "bomb truck."
Northrop has already developed a possible version of such a drone, called the RQ-180, details of which are still classified. That work could give Northrop an advantage in the bomber competition.
"They have designed a stealthy large aircraft more recently than anyone on the Boeing/Lockheed team," said the government defense analyst.
The wild card is how much the Pentagon wants to protect the industrial base. It's clear that while Boeing and Lockheed are healthy companies, Northrop may not survive intact a loss of this contest.
Would the Pentagon accept Boeing absorbing Northrop's aircraft unit, reducing its prime military-airplane providers from three to two, perhaps with Lockheed exclusively building fighters and Boeing bombers?
The government analyst said the Pentagon has already accepted such virtual monopoly consolidation in the building of U.S. submarines and aircraft carriers.
Both Boeing and Northrop declined to answer questions on the bomber competition.
"We feel we are well positioned for this program in terms of capability and capacity," said Northrop spokesman Randy Belote.
Boeing spokesman Todd Blecher said the company has "been part of the bomber community from the start of the bomber age" and looks forward to the opportunity provided by LRS-B.